ARTICLES & REVIEWS

From MelbourneStage.com.au The Woman In Black By - Brian Geach

John Waters & Brett Tuckey star in London's favourite ghost story

In the last 19 years over 3 million people in London's West End have seen The Woman In Black - now it's Melbourne's turn.

Unaninmously acclaimed by the critics, Stephen Mallatratt's adaptation of Susan Hill's best-selling novel combines the power and intensity of live theatre with a cinematic quality inspired by the world of film noir.

Two of Australia's finest actors will transport you to this terrifying and ghostly world. John Waters, currently starring in All Saints is one of Australia's most respected theatrical, television and film actors. Brett Tucker of McLeod's Daughters' fame has enjoyed roles in television and film in Australia and the United States and he returns to the stage in The Woman In Black.

The Woman In Black is a ghost story - the story of Mrs Alice Drablow and a young solicitor sent to settle her deceased estate. His task is a lonely one and he has a terrible and growing sense of unease. Then he glimpses a young woman with a wasted face, dressed all in black. The locals cannot or will not give him answers. So he waits until he sees her again, and she slowly reveals her identity to him - and her terrible purpose.

Relying on atmosphere, on hints, glimpses and suggestions, on what is shadowy, heard and sometimes only half seen, The Woman In Black chills the audience as it builds to its terrifying climax.

This new Australian production of The Woman In Black is produced by newtheatricals, Lunchbox Theatrical Productions and Singapore Repertory Theatre.

"a nerve shredding show… Victorian creepiness wraps around you like a sea of mist" Daily Express (London)

"The entire audience screamed in horror" Sunday Mirror (London)

"I have never witnessed an audience jump and gasp in such genuine shock as they do here" Daily Telegraph (London)




Season dates, venue info, booking info, publicity pictures & articles, reviews.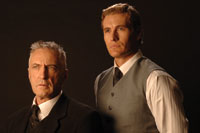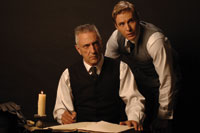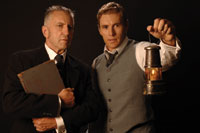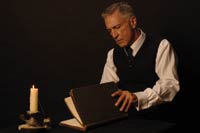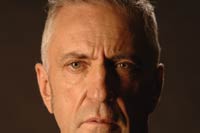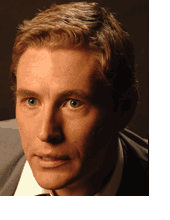 John Waters and Brett Tucker, two of Australia's finest actors transport you to the terrifying and ghostly world of The Woman In Black – an evening of unremitting drama in the world's best ghost story.

Eel Marsh House stands, tall, gaunt and isolated on England's bleak coast. Here Mrs Alice Drablow lived-and died-alone. Young Arthur Kipps, a junior solicitor, is ordered to attend her funeral and sort out her papers. His task is a lonely one and he has a terrible and growing sense of unease.

And then he glimpses a young woman with a wasted face, dressed all in black. The locals cannot or will not give him answers. So he waits until he sees her again, and she slowly reveals her identity to him, and her terrible purpose.

During the last 19 years over 3 million people in London's West End have seen The Woman in Black – one of the most exciting, gripping and successful theatre events ever staged.

             Unanimously acclaimed by the critics, Stephen Mallatratt's adaptation of Susan Hill's best selling novel combines the power and intensity                of live theatre with a cinematic quality inspired by the world of film noir.

             This new Australian production is produced by newtheatricals, Lunchbox Theatrical Productions and the Singapore Repertory Theatre.


SEASON DATES, VENUES, BOOKING INFO (incl links)

Showbiz
can organise Stay & See and VIP packages in all cities.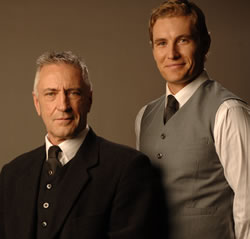 Back in the black Sandra McLean  June 02, 2006 The Courier Mail

JOHN Waters is part of our performing arts fabric yet his first job in Australia was a long way from the stage.

There was something theatrical, however, about working on a sheep station in Queensland. It's hard to picture Waters then 19 and fresh off the boat from England, grappling with sheep in the shearing shed and playing drinking games with stockmen.

It's 38 years since Waters arrived at Bimerah station, 100km southwest of Longreach, but this London lad who went on become a Play School favourite, musical theatre star and a sought-after TV and film actor, talks of those times as if they were yesterday. In Brisbane to promote the play The Woman in Black, it feels like a homecoming for Waters as it was here that he had his first taste of Australia.

"I left the UK because I felt a certain melancholy and I thought it would be a good idea to go a long way from everyone," says Waters. "The problem is that you take your melancholy with you. I was a troubled teenager and there was no specific reason why I came here – it was just in my head to come."

After a few months fixing fences and shearing sheep, Waters realised he wasn't cut out for station life.

So he went back to Brisbane and made a modest living performing Bob Dylan songs in coffee bars before heading to Sydney where he got his big break as a performer in rock musical Hair in 1969. At 57, Waters can look back at more than three decades of performing in film, television and musical theatre. Acting has been a major breadwinner and Waters is delighted to have a regular role in Channel 7's All Saints, making his debut on Tuesday. But music has been his passion and in the past 15 years he has performed in musicals and as a solo artist in his John Lennon show Looking Through a Glass Onion.

His stage musical record is impressive – Jesus Christ Superstar, Cafe Brel, The Graduate, Fagin in Oliver! and Captain Von Trapp in The Sound of Music.

Brisbane audiences missed out on seeing Waters in The Sound of Music in 2000. He had left the show as his personal life unravelled after his second divorce. Waters described this time in his life as "being lost in traffic". It took electronics buyer Zoe Burton to save him from his demons. They married in 2002 and have a boy, Archie, 3. Waters also has two adult children.

Waters saw the Gothic stage show The Woman in Black, based on Susan Hill's bestseller, in London, where it has run for 19 years. He's keen to get his dramatic teeth in to this creepy ghost story about an avenging spirit. Waters plays the older Arthur Kipps, a solicitor who, as a young man, was sent to sort out a woman's estate.

There he glimpses a woman with a wasted face dressed in black. No one can tell him who she is but Kipps learns her terrible story. He retells it with the help of a young actor played by McLeod's Daughters' star Brett Tucker.

After The Woman in Black, Waters hopes to create a show in the same vein as Glass Onion that presents music in a theatrical way. "I've discovered this is what I really like to do – it is what I have learned as an actor to talk to an audience as well as sing songs.

"I've never believed in resting on my laurels. You can't in this industry.

"People think we are all rich because we are well-known entertainers but it's not the case for people like me who have a succession of marriages and wasted money."

The Australian.  Vague signs of life in bare-bones plot.  John McCallum June 30, 2006

By Stephen Mallatratt.

THIS show is full of screams and blackouts, swirling mists and things that go bump in the night. It's set in the mysteriously isolated Eel House, conveniently cut off at high tide from the Yorkshire coast. The walls creak, and so does the plot.

The Woman in Black has been running in England for nearly 20 years. It is an attempt to tell an old-fashioned, multi-character ghost story using only two actors, and the result is drab.

Director Robin Herford writes ingenuously in his program note that the economy of production is "the chief reason for its continued success".

The main conceit, which takes three scenes to set up, is that the vengeful ghost's latest victim, a lawyer who stumbles into the haunted house to tidy up the papers of its recently deceased owner, has barely survived his experience and has now employed an actor to help him tell his terrible story.

He has apparently never been to the theatre. He is astonished to discover that you can, for example, represent a horse and buggy with a sound effect, without bringing a real horse on stage.

In the theatre, an actor playing one character may be effective if, in Herford's words again, he "credibly assumes the persona of another character, even though we, the audience, are fully aware that he is not that character". Gosh.

The lawyer and his theatrical tutor set out to turn the long manuscript of his trauma into a stage show. They still manage to include a lot of descriptive passages and undramatised chunks of narrative, but these are interspersed with abrupt sound and lighting effects, shadow scenes in homage to film noir, and a secret room revealed behind a gauze backdrop in an effect that the great 19th-century actor Henry Irving might have admired.

John Waters and Brett Tucker play all this very well. Waters credibly assumes a nice series of personas as his drab lawyer discovers his theatrical talent and performs all the colourful village characters. Tucker comfortably takes over the central role as he performs the lawyer's part of the story for him.

There are a couple of neat twists at the end. The ghostly woman in black isn't credited in the program and doesn't appear at the curtain call, for reasons that I cannot reveal. But at the end of the show I was left wondering why the original novel had to be done on stage, or if it did, why we had to get a budget version.

Sydney Morning Herald.  Misty melodrama gets the screams.  

Reviewed by Bryce Hallett.  July 1, 2006

Two men, a rack of clothes, a ghostly backdrop gauze, a much-used wicker basket, a secret room and curling mist. There is plenty of mist.

The Woman in Black manages to be a bare-bones spectacle enlivened by the storytelling skill of its actors and judicious use of lighting and sound.

Stephen Mallatratt's adaptation of Susan Hill's novel turns to the theatre itself - the black box from which characters and worlds are conjured - to tell an old-fashioned ghost story set in London and a gothic mansion on England's remote east coast.

Conceived as a "cut-price stocking filler" for a theatre in Scarborough, The Woman in Black has been playing on London's West End with cast changes since the late '80s. Its success owes much to the transparency of its magic-making and, no doubt, a fondness among audiences for sentiment and scare tactics.

The plot is threadbare and big on atmospherics as director Robin Herford resorts to many an old trick of the trade, and the audience's imagination, to suspend disbelief and insinuate danger.

Arthur Kipps (John Waters), a middle-aged London solicitor, seeks instruction from a young actor about how to best tell his tale to family and friends of the tragic events he encountered 30 years earlier. Kipps wants to purge his fears while the actor, played by Brett Tucker, is eager to lend a hand. They enact the journey to the enigmatic Eel Marsh House where Mrs Alice Drablow lived and died, and where terrible things occurred. The role of the young journeyman is taken by Tucker while Waters gets to cast off the grim, patrician mantle of Kipps to play a range of vibrant character parts. Waters is excellent, his secure technique and adaptable voice adding considerably to the work's appeal while Tucker is likeable and engaging as the go-lucky hero pulled into the unhappy vortex. They're like a vaudeville duo as they dust off the cobwebs, crank the spook show up and help trigger a couple of hearty screams.

The Woman in Black is light, enjoyable fare but I didn't find it especially scary. And no amount of imagination can disguise the fact that it often creaks along and is dull in patches.

Sydney Morning Herald. The Woman in Black.  Colin Rose, reviewer  July 3, 2006

A strapping John Waters commands this superior piece of hokum.

It was an uncommonly cold evening as, furling my collar against the bone-chilling wind, I stepped briskly through unpeopled city streets, streets so familiar to me yet, at this late hour, also inexplicably otherworldly. A pale, sickly yellow moon hung low in the sky. What was the nameless dread that clutched my heart in its clammy fingers? At that very moment, a bloodcurdling shriek pierced the inky night. I was not entirely surprised to realise the ghastly cry had issued, unbidden, from my own lips.

"F---! Australia's out of the World Cup because of a shocking refereeing decision."

But enough of football. My other, nerdier passion as a teen was horror fiction, which I devoured with a vampiric thirst. With a few literary exceptions - Henry James, Robert Louis Stevenson - horror is, I think, a genre for adolescents. Look at all those ridiculous splatter movies. Adults are tougher to hoodwink. This is particularly true in the theatre, where disbelief isn't always easily suspended.

The Woman In Black is an exception. Susan Hill's novel, written as homage to the gothic greats (the title is, of course, a salute to Wilkie Collins), has been creepily adapted for the stage by Stephen Mallatratt. It's been running, and scaring the bejesus out of tourists, in London's West End for donkey's years. Robin Herford, who originally commissioned the adaptation, directs this Australian production, which stars John Waters and Brett Tucker. After a short Sydney season, the show is touring nationally.

Arthur Kipps (Waters), a young solicitor, is dispatched to the remote town of Crythin Gifford to attend the funeral of an elderly client, Alice Drablow, and to tidy up her estate. Naturally enough, her home, the wonderfully named Eel Marsh House, is a desolate manse with its own graveyard. It's also cut off from the mainland at high tide and, wouldn't you know it, often shrouded in an impenetrable sea fog. The mere mention of Drablow's name is enough to stun locals at the Gifford Arms pub into silence. What are they hiding from Kipps?

I expect the answer may lie behind Eel Marsh House's one locked door, the one through which the bump-in-the-night noises can be heard.

Mallatratt literally frames Hill's story in the theatre: many years later, Kipps has employed an actor (Tucker) to help in a public telling of the spooky events at Eel Marsh House. We are the audience for a sort of exorcism.

It's a conceit that's not entirely convincing, but then we're back again to the question of horror and plausibility - perhaps it's best not to speak of the latter when ghosts are out and about. Waters's talent for English accents is put to good use, although he is, perhaps, rather too strapping and handsome for such a haunted character.

Tucker is cheerily bullish as the actor, clearly someone who's heading for a fall.

It's superior hokum.

Fear is the key  July 9, 2006 The Age  By Melinda Houston.

John Waters, left, and Brett Tucker: just two blokes - and a really scary story.

Photo: Craig Sillitoe

After two decades on London's West End, the creepy two-hander The Woman in Black treads south.

Veteran actor John Waters has no interest in bungy jumping. He reckons his day job is terrifying enough: "Thrill-seeking entertainment is not something that actors do. We have enough fear and adrenaline without going out and paying for it." But he's well aware that just about everyone loves a good fright from time to time. In fact, he's counting on it.

"People love to be scared," Waters says. "And I think that's why The Woman in Black has been so successful." Waters and Brett Tucker (you'll recognise him as Dave Brewer from McLeod's Daughters) are about to re-create the creepy two-hander that's been filling theatres in London's West End for a staggering 19 years. In preparation, they both made the effort to take in the British version, just to see what all the fuss was about.

"I felt like I really would like to see this play before doing it, to see for myself how it works," Waters says. "It was good to see it in operation, and become one of the audience members who gets completely sucked in by it."

Tucker says, "I was there looking at those technical aspects too and was, like John, completely sucked into it. It was scary! It's a scary book, it's scary when you read it. But I was surprised how scary it was on stage. There were people screaming in the audience. It really goes off. So then I told them I couldn't do it, I was too scared."

Fortunately, Tucker was persuaded back to the project, and both men are looking forward to the particular challenges of the play, adapted by Stephen Mallatratt from Susan Hill's best selling novel about the mysterious death of Mrs Alice Drablow and its repercussion for young solicitor Arthur Kripps. In the play, an older Kripps (Waters) recruits an actor (Tucker) to relive that terrifying experience. There are no extravagant sets, no special effects, no blood and guts. Just two blokes - and a really creepy story.

"The involvement of the two men in the story is complete in a circular kind of way," Waters says.

"We both play the same character, and while he's playing the man as a younger man, I get to play all the other characters that come into the story. As a two-hander, it means you are doing storytelling. There's no real set or props. It's the stuff you might find lying around a disused theatre. It just seemed to me like a fantastic role for both guys to be able to really rely on their communication skills and their involvement to get that audience really travelling with you. And I thought, 'Yeah, I'd really love doing that'."

"The same! Wot he said," laughs Tucker. "I've been doing McLeod's for four years or something so this couldn't be more perfect. It uses all the traditional aspects of storytelling, you're on stage the whole time, you have to work on a few different levels to get the story across."

And the pair is not at all daunted by trying to replicate the play's stupendous British success.

"It just makes me hopeful that Australians will take to it in the same way London audiences have," Waters says.

"One of the reasons it's run so long is because of the huge effect it's had on an audience. That makes it easy to sell tickets, to locals and tourists. And I don't see any reason why it wouldn't work just as well on an Australian audience."

"And it does appeal to all ages," Tucker adds. "There was a real mix when I went."

The story has its origins in the Victorian era but the first manifestation of the eerie spirit - the woman in black - appears in the late '20s, and in the play itself audiences see two men telling the story in a late '40s setting. The language and the style, though, is very much Wilkie Collins or Henry James. Which will be a blessed relief to all those people who love scary stuff but don't love the splatter that's come to dominate contemporary horror films.

"It's done utilising subtle things," Waters says. "There are things in this story that are not in themselves creepy but the context makes them creepy. There's a rocking chair, which is one of the creepiest things you've ever seen, but it's only scary because it's not supposed to be doing what it's doing."

That dissonance is at the heart of The Woman in Black's eeriness. And one of the reasons it's so effective is because it's that kind of stuff that scares us in real life. Fortunately, few of us have ever opened the attic door to be confronted by a demon, a headless corpse or a crazy guy wielding a chainsaw. But most of us have been scared silly at some time or other by quotidian things occurring in unexpected circumstances.

"The fear's instilled in you by seeing something that's not in itself threatening but shouldn't be there," Waters says.

"The empty house with the noise that shouldn't be there; the noise itself is innocuous but it's terrifying because it shouldn't be there. And it's one of those things, if you're in any group of people, they start having their own stories, everybody's got some take on the ghost thing."

Tucker laments the fact that he's never had a close, personal encounter with a ghost (despite the fact that the Drovers Run homestead used in McLeod's is, reputedly, seriously haunted). But he has had a spooky encounter of a different kind while living in a sharehouse - also, supposedly, haunted - while he was at drama school.

For better or worse, the hoarse breathing that disturbed his sleep actually turned out to be a possum.

"But it really did scare the crap out of me," he says. "It all depends on your mood and where you are. And that's exactly how this play works."

Which is not to say a possum dunnit. Merely the same shivery magic is at work. "It's a thriller, not horror," Tucker says. "There's no gore. It's all about suspense. It's terrifying. It's going to be great fun."

The Woman in Black opens Wednesday, July 19, at the Comedy Theatre, Melbourne city. Bookings: 1300 552 072 or www.ticketek.com.au

Sydney Star Observer - Issue 823 - Published 7/06/2006  Review by Martin Portus

You expect to see all sorts of things these days in the theatre – but you don't usually expect to get scared. We're now so spoilt by cinematic effects that the relatively simple resources of theatre don't usually have much pull on our fearful imaginations.

So it was fun to be caught out screaming in unison with the audience at this simple two hander of a ghost story.

Conceiving the play as a cheap "stocking filler" for a regional theatre in Britain, Stephen Mallatratt one Christmas 20 years ago adapted this scary novel by Susan Hill, and the show is still running in the West End. The original director, Robin Herford, has now recast it with two Australians for its national tour here.

The novel is set in an isolated mansion on the remote east coast of England, prey to an eerie fog and a dangerous rising tide. The charm of the play is that it's set in the magic of an empty stage, and our imagination is conjured up with the barest of theatrical props.

Lawyer Arthur Kipps (John Waters) arrives to ask for the help of The Actor (Brett Tucker) to interpret – and exorcise – a ghostly story about a woman in black who still haunts him.

The Actor then plays Kipps's younger self who was sent to the remote house to sort out the affairs of a dead client, with Kipps (Waters) showing an astonishing ability to play all the other eccentric characters.

The Woman gets to play herself, banging doors, floating behind the gauze or startling us suddenly spot-lit in the fog. Revealing her story is the purpose of this simple and unlikely plot.

The two actors (and ghost) have only lighting and sound changes and the odd stool and packing case with which to tell their story. They effectively creep around the stage, building the scare but also exposing how slow and wooden this predictable march of a ghostly tale can be.

It is set about a century ago in an time when mansions were darker and horses drew carriages. Handsome young Brett Tucker captures the eager beaver quality of the enquiring Actor and John Waters is an impressive encyclopedia of funny regional accents and characters.

My companion – a film reporter – adored it, and wondered why my praise was more reserved. Even if I had been screaming.

The Woman In Black is at the Theatre Royal until 16 July.

Reversal of roles picks up pace  By Carol Payne NORTH SHORE TIMES 06Jul06

DESPITE vast amounts of pre-publicity about The Woman in Black, currently on stage at the Theatre Royal, this reviewer found this so-called ``terrifying and ghostly mystery play'' a tremendous disappointment.

With a cast of two sharing roles, John Waters and Brett Tucker, the play opens with Waters as the self-conscious, mature-age solicitor, Arthur Kipps, trying to interest The Actor, Tucker, in staging a manuscript that outlines his tragic life.

But Waters does the role of the diffident Kipps so well it is excruciatingly dreadful and almost inaudible. Over and over we are forced to listen as he mumbles the opening paragraphs of his manuscript with The Actor offering ineffectual encouragement.

Then, after a very long time, there is a sudden reversal of roles, and the play finally picks up some pace.

Even so, the gloomy lighting, long periods of silence, and multiple scenes sees it sink into the bogs near the eerie Eel arsh House, former home of the recently deceased recluse, Mrs Alice Drablow.

There's nothing subtle in this play, from the fog swirling around the stage in the opening moments, the heavy-handed use of sound effects, the piercing female shrieks (probably effective in waking those who have dozed off) to the predictable conclusion.

Tucker is back in Black, The Sunday Mail by DOUGLAS KENNEDY 25jun06

WHEN TV star Brett Tucker raced into the green room at Brisbane's Lyric Theatre to talk about his first stage outing for a long time, co-star John Waters noted he was looking a little worse for wear.

Tucker and Waters had made the trek north after a long night of Logies celebrations, but the thought of returning to the stage in the ghostly melodrama, The Woman in Black, soon had the actor fired up.

"I've had a wonderful time playing Dave Brewer in McLeod's Daughters, but I am really excited about getting back into the theatre and my grassroots," said Tucker. "There's nothing like connecting with an audience and although I seem to be mostly on TV and in films nowadays the stage is as important to me. "It's really a question of juggling. I have found it almost impossible to do much else while I have been on McLeod's Daughters. It's even worse if you're on TV in the US."

That's one of the reasons Tucker says he was relieved to be able to knock back the opportunity to join the cast of Days of our Lives after he auditioned for the show on a recent trip to Los Angeles.

The fresh-faced 34-year-old says Days actors have to sign up for the show before auditioning, but there's a five-week getout clause. "The idea is that if you are not offered a role within five weeks, the contract you signed before the audition is invalid," he says.

"I had an inkling that the producers liked me when I went to audition but I was able to knock back the role because they didn't contact me before the five-week deadline. "I changed my mind about Days of our Lives because it involved working about 49 weeks a year. The other thing was, well, I hadn't seen the show before I went to Los Angeles. "I don't think I'd want to be in a show I wouldn't want to watch."

Tucker is a focused young man with his mind firmly set on his career. His introduction to the stage was the result of an impulsive bid to contact actress Jo Kennedy after seeing her in Gillian Armstrong's 1982 screen musical Starstruck.

"We moved to the Victorian country town of Warburton when I was about six. I'd already been fascinated with the stage since my best mate starred as Oliver in a local production of the musical," said Tucker. "But it was the movies which really enchanted me and I saw everything that came to Warburton. When I saw Starstruck one of my friends said that the star, Jo Kennedy, came from our town. "Now, I am not a pushy fellow, but I found out where she lived and decided to go and see her. "She wasn't home but her dad, who was a teacher, said he'd let her know about me when she next came home. "Then out of the blue I got a phone call from Jo and finally got the chance to meet her."

Tucker also got to meet other members of the Kennedy family, including Jo's brother, who was studying at a film school, and finally got the chance to appear in one of his short films.

Tucker says Kennedy was something of an inspiration and finally encouraged him to take acting seriously. In 1996 he graduated from Melbourne's National Theatre Drama School.

Since then, Tucker has appeared in many TV shows and films in Australia and the US including The Great Raid starring Benjamin Bratt and episodes of Blue Heelers, Neighbours and State Coroner. "McLeod's Daughters was particularly good because all the filming was done on location in Lilydale, Victoria and, at heart, I think of myself as a country boy," he says. "But the time has come to move on and now I am thrilled to be working with John Waters in the Woman In Black."

The stage adaptation of Susan Hill's popular novel has been described as London's favourite ghost story. It has played to more than three million people in the past 19 years.

The Woman In Black is the story of Alice Drablow and a young solicitor Kipps (Tucker) sent to settle her deceased estate. His task is a lonely one and he has a terrible and growing sense of unease. Then he glimpses a young woman with a wasted face, dressed all in black. The locals cannot or will not give him answers and so he waits until he sees her again, and she slowly reveals her identity to him. Waters plays the old Kipps.

"It's going to be a wonderful experience," says Tucker. So what's next? "I don't know, but it doesn't look as if it's going to be Days Of Our Lives," he says with a confident chuckle.

The Woman in Black, QPAC Playhouse, from August 9. Bookings: 136 246

The Age 19 July 2006.  Master of stage's black arts.  By Clare Morgan

IT'S hard to believe Robin Herford is an expert at terrorising people. How is it possible that such a benign looking, smiling man, with a friendly manner and frightfully British accent, can reduce theatre-goers to shrieking, quivering wrecks?

Yet that is what Herford has been doing for almost 20 years as director of The Woman in Black.

What began as a cut-price Christmas stocking filler in 1987 has enjoyed a 17-year run on London's West End, seen by more than 3 million people. A production starring John Waters and Brett Tucker opens in Melbourne tomorrow after a season in Sydney.

The show is famous for scaring the pants off audiences, the theatre often echoing with screams of terror. Herford has seen grown men cowering in their seats, and an ambulance had to be called to one performance, although the director notes: "Whether that was us or he was going to have a heart attack anyway we can't know. We probably didn't help, though."

The chilling story sees solicitor Arthur Kipps sent to the bleak Eel Marsh House to settle the estate of the late Alice Drablow. It is a lonely task, made more difficult by his increasing sense of unease and culminating in his glimpse of a black-clad young woman with a wasted face. The tension builds and the shocks multiply as her story is revealed.

Years later, believing the woman has cursed his family, Kipps hires an actor to tell his story so that he can finally move on from it.

Herford commissioned the work when he was running the Stephen Joseph Theatre in Scarborough while its artistic director, Alan Ayckbourn, was at London's National Theatre.

"One thing I'd been told was that you must spend the money you're given, because you'll get less next year if you give anything back," he says.

With the end of the year approaching, and money in the bank, he asked the theatre's resident playwright, Stephen Mallatratt, to come up with an original piece or adapt an existing work.

"But, I said, there are severe restrictions: It can't be more than four people in the cast, and the set and costumes can't cost more than £1000 ($2428). Well, he wasn't very impressed."

The work, based on Susan Hill's novel of the same name, was commissioned in September and rehearsals began in November, lightning pace in anyone's language. But Herford was used to quick turnarounds after working with Ayckbourn.

"Often with him, the title of the play would be in the publicity before it was even written, because that's how he wrote," says Herford.

Rather than being a hindrance, the tiny budget helped shape a work that relies more on stage craft and suggestion than effects. "Had we had the big budget, I'm sure we would have come up with a decent play but I can guarantee it wouldn't still be running on the West End after 17 years," says Herford. "It does something that only theatre can do: it celebrates the art of the actor and what actors do so well, which is become other people. It's a sort of magic."

That magic is woven by sound effects and lighting and tricks such as gauze spread across the stage, which appears and disappears depending on the lighting.

"There is horror but it's not like The Exorcist or Alien. It's not a greater power from beyond the unknown; it's a human tragedy that has appalling ramifications."

The Woman in Black is at the Comedy Theatre from tomorrow until August 6.

The Age. Entertainment Snippets, Lawrence Money and Bridie Smith.

July 27, 2006

On the double

"MEN can usually only remember 50 words at a time," quipped one admirer after thespian John Waters, drained following a stellar two-hour performance at the Comedy Theatre, appeared at the after-show do. "It's a lot of words," said he about his two-hander with Brett Tucker, The Woman in Black. "Absolutely takes over your mind." The play, which features the most spine-tingling scream since Fay Wray in the early King Kong, has the audience nerves jangling. It may test Waters in more ways than one. His wife is due to deliver twins on the last day of the final season in Perth.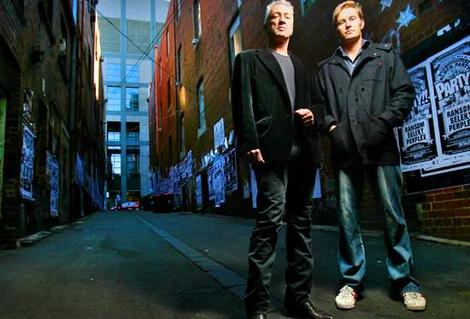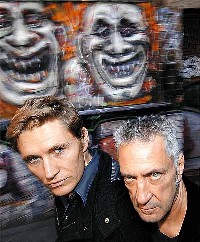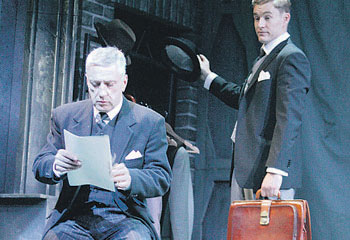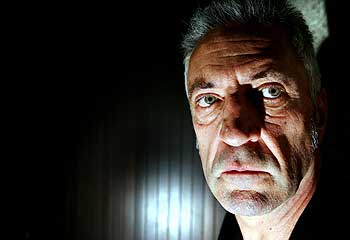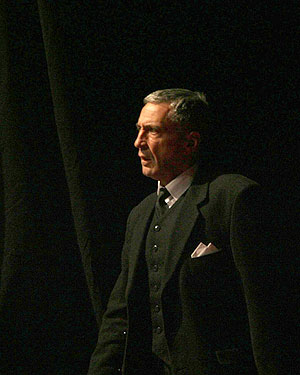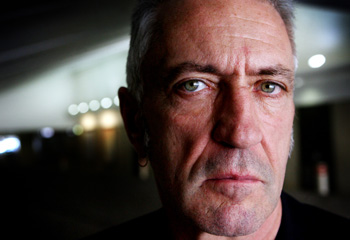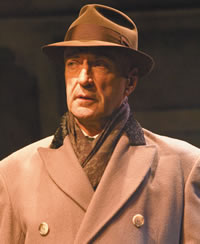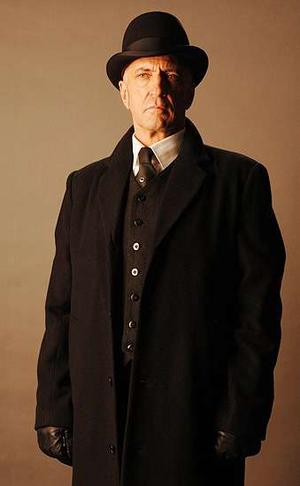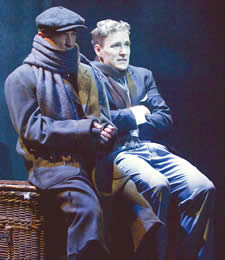 WEBMISTRESS REVIEW - 23 September 2006.

In the past few weeks I have been to a few amazing shows and really need to catch up on myself.

First up on Sep19 (Tues) Laurel and I went to opening night of the play The Woman in Black - a two man play starring John Waters and Brett Tucker. Thanks John & Zoe for the tickets - they were fab seats.

I dont honestly remember ever seeing a 2 man play before and I really have to admire actors who are capable of memorising and delivering so much dialogue. The play is about a haunting and clever sound & lighting effects - along with the two amazing actors creating the appropriate suspense levels - left the audience jumping and screaming in all the right moments. Its a play within a play and a really nicely written story with a killer twist that beats The Crying Game and 6th Sense for its unexpectedness.

I went again with Mum the following Friday (22nd) - sitting in the centre of the second row. I wasnt sure if the suspense would be ruined by already knowing the storyline - it wasnt ! I still leapt in fright in many parts but was also able to concentrate more on the dialogue and both actors sterling performances.

Thank you to the producers for bringing such an unusual play to Perth with such talented performers.

My only complaint - the usual one - Perth venues. The Burswood Showroom was far too big and cavernous for the production. It needed the intimacy and warmth of the Regal or His Maj.  I cannot fathom that the audience members sitting beyond row Z could have possibly appreciated the attention to detail and facial expressions of the actors (but then I think that of all audiences - being the girl that never sits further back than 10th row !).

The Age 30 July 2006 The Woman in Black

Being spooked in the old-fashioned way is an enjoyable experience.

It's got everything a winter's evening in Melbourne needs, apart from an open fire and a warming beverage of some description: an old-fashioned ghost story set in an old, dark house; some eccentric locals who know more than they're letting on; a young and rather breathless young chap who stumbles innocently into their midst.

Stephen Mallatratt's play, adapted from the novel by Susan Hill, is really a play within a play, like Hamlet's Mousetrap (which, come to think of it, became the title of another long-running West End play). But instead of being a strategy to "catch the conscience of the king", the play within The Woman in Black is a means for a haunted man to achieve closure.

John Waters plays Arthur Kipps, who has written down his memories of a harrowing experience in his youth so that he can read them to his family and friends and so bury the past. He has come to the Actor (Brett Tucker) for professional guidance in public speaking. The Actor has much more ambitious plans for the presentation and, in the end, he plays the part of the young Kipps, while Kipps himself plays a number of supporting parts.

Together they re-create the young lawyer's visit to Eel Marsh House, where he was sent to attend the funeral, and to put in order the estate of the mysterious Mrs Alice Drablow. As the young man goes about his work he gradually comes to understand the significance of the fleeting appearances of a young woman, dressed in black and with a wasted face.

Waters is very funny in the initial scenes as the theatrically incompetent Kipps, who makes the transformation to proficient performer under the Actor's patient tutelage, but the play becomes darker as the rehearsals continue. Michael Holt's design features a scrim that gives a misty view of the interior of the house, and Damien Cooper's lighting and Michael Waters' sound combine to produce some deliciously spine-tingling moments.

The single exception is the final appearance of the ghostly Woman, which involves a gesture that weirdly suggests a kind of spectral aerobics instructor. All up, though, it's an enjoyable experience, being spooked in the old-fashioned way.

Adelaide Advertiser The Woman in Black September 01, 2006 12:15am by – Patrick McDonald

Her Majesty's Theatre Until Sunday, September 10

This gothic thriller is what you might call an amusement – a novelty piece full of vaudevillian trickery designed to deliver frights, shrieks and nervous laughter. Rather than a masterpiece of theatre, it's an elaborately told ghost story, which would normally be heard around a campfire.

A hit with audiences in London's West End for nearly two decades, The Woman in Black adapts Susan Hill's best-selling novel to the stage by making it a play within a play.

Ageing solicitor Arthur Kipps (John Waters) hires an actor (Brett Tucker) to help him tell his memoirs. As a young man, Kipps is sent to a distant corner of England to manage the deceased estate of Mrs Alice Drablow, an elderly widow about whom the locals will not speak. At Mrs Drablow's funeral and her deserted house, surrounded by treacherous marshes, Kipps spies a mysterious woman in black.

Using the whole of Her Majesty's, decked out like a dilapidated theatre with minimal props, the audience is transported with clever lighting and curtain effects from present to past and lulled into a false sense of security.

Waters, who recently joined the cast of the television medical drama All Saints, is wonderful as always. It's a showcase piece for him, as Kipps is forced – unwillingly at first – to take on half a dozen other beautifully realised, classic English character types.

McLeod's Daughters star Brett Tucker plays his unnamed actor character with ebullient theatricality but suffers from a case of the Elmer Fudds which often renders his dialogue difficult to follow. You'll probably guess the twist at the end – but as with all good ghost stories, the real fun is getting there.

DB Magazine by Alex Wheaton

The Woman In Black Her Majesty's Theatre Wed 30th August

A spine chilling two-handed thriller of a play, 'The Woman In Black' is the latest vehicle for Australian actor John Waters to stretch out and show off his versatility. It probably also gets him out of the studio where he's been ensconced for some time as the grumpy yet brilliant resident surgeon on the Australian TV drama 'All Saints'.

I've always liked Waters for his understated dedication to his roles; he makes them look easy to know and easy to like, even some of his less lovable character, and when he added a new dimension many years ago when he took on John Lennon's life story with 'Looking Through A Glass Onion' I felt him to be one of the very best all round actors this country has produced. He really hasn't done that many small cast performances though, and 'The woman In Black' seems likely to tax him to the limit. After all, he does play seven different roles in this darkly Gothic adaptation of a Susan Hill novel which has been a smash hit in London's West End for the past fifteen years.

"It can be pretty hard work every night, because I'm putting a lot into it," agrees Waters, and he adds diplomatically, "the audiences make it as much as the performance itself because it's one of those deeply... emotional pieces of theatre. By that I mean everyone seems to get swept up in the emotion of the story, and that heightens the dark and scary aspects of it.

"It really is one of those performances which come along only every so often and you think 'I could really make a go of this'," he offers, sounding confident but not exactly relaxed, as we discuss this adaptation for the stage by Stephen Mallatratt.

Water's young sidekick in the play is television actor Brett Tucker, who plays Arthur Kipps, a young lawyer, is sent from the city to a tiny village on the East coast of England to see to the estate of an elderly woman, Mrs Alice Drablow, just deceased. Attending her funeral, Kipps encounters a young woman - dressed in black - but the villagers deny she was even there. The mystery begins to unfold, and the action is centred around the spooky setting of Eel Marsh House.

"Brett's just wonderful to work with because he has the right amount of wide-eyed innocence about his character. He can make some of the slightly weird stuff seem more believable, and this is one of those suspension of disbelief plays. I mean, most of what you see is suggestive; it's supernatural but we're grasping for a logical explanation to it, and so too is the audience. That's what keeps the tension up in the piece. Brett is really good in helping that building of the tension which everyone feels."

In fact, 'The Woman In Black' is something of a play within a play, where Waters plays an older version of Arthur Kipps who engages The Actor (Tucker) to help him better relate to family and friends an experience which happened to him as a much younger man. The Actor sees a wider audience for the story which unfolds and takes the mantle of the lead role upon himself, leaving the older Kipps to play the other roles. Confused?

"Well, of course, that's the nature of the thriller and a chiller," laughs Waters. "All becomes revealed at the end, but there are no short cuts to the answers in a play such as this. Yes, it's complex, but it's all in a good night's entertainment."

Naturally, the spectral woman (or is she?) holds the key to the mystery.

THE BLURB  Ghost of a chance by Philippa Wherrett

When a London play is produced in Australia, it's usually an Australian version that we see. However, Robin Herford is the director who originally commissioned Stephen Mallatratt to write The Woman In Black. Mallatratt decided to adapt Susan Hill's ghost story. As they say – rest is history. The play is in its 10th year at London's West End Fortune Theatre. It's been translated into 12 languages and performed in 41 countries. Not bad for a play written for a shoestring budget.

The Woman in Black is an old-fashioned ghost story. How it unfolds is obvious and the outcome is, well, obvious. But none of this matters, because the audience's familiarity with ghost story conventions only adds to the tension. You know that the knocking sound is the harbinger of evil, that the locked door hides supernatural horror, that his curiosity will overcome his good sense and that it can only end in tragedy. But it still gets you where you live. We even understand that the actress who plays the woman in black isn't credited in the program in order to increase the mystery and enhance the atmosphere. We can more readily suspend our disbelief and buy into the ghost story, if she has no public face.

During the show, every time people started in their seats or shrieked with fear, they also laughed - at themselves for being scared, even though they could see it coming, and at the production's ability to scare them, despite their knowledge of ghost story conventions. The scarification is achieved through the talents of the lighting and sound crew, the script and the acting. It's a very tight production by a group of industry professionals who use every trick and device of their craft available, to great effect.

John Waters plays a host of characters, including Arthur Kipps, who has written a play in order to exorcise his demons. Kipps needs closure. To get that closure he needs to present the play to his family and friends. It's imperative they understand the nightmare he's been through, that he's going through. But Kipps is not a thespian. So he employs the talents of an actor (Tucker) to bring his tale to life. As rehearsals unfold, Kipps and the actor are caught up in the telling, never suspecting that the experiences of the one will become the fate of the other.

The relentlessness of the haunting in this story reminds me of the film, The Ring. How the haunting is transferred from one person to another, like a cursed disease, is a chilling and dreadful concept. The Hollywood version of this film had a huge budget to play with and lots of digital tricks at its disposal. But The Woman in Black is a play. There's no CGI. What you see is what you get. All that is required is that we believe whatever the players want us to believe - that the air they pat is a dog; that the wicker basket is a desk, a carriage drawn by horses or a bed. We believe that John Waters is whoever he is whenever he is, which is a good thing, since he plays at least six characters. But it's the simplicity of the play's structure and the sparseness of its props that allows us to fill in the gaps, engages our imagination and allows the story to get its claws into us.

John Waters was great as the racist, narcissistic shock-jock in David Williamson's play Influence (Sydney Theatre Company, 2005). But in The Woman in Black, we get a real taste of Waters' awesome range. When Waters changes characters in back to back scenes, it's seems to be at the flick of some unseen switch. One minute he's the town solicitor, the next he's the surly coachman or Mr Kipps' aged boss. The transition from character to character is seamless, achieved with nothing more than a pair of glasses, clothing, physical mannerisms and/or voice alteration. It's theatre in its purest form.

Waters is also the narrator. The actor (Tucker) voices Kipps' point of view. Tucker's performance as the actor is totally compelling. He imbues his character with an essential boyish naiveté and takes us on his character's tragic journey, where he will be educated by malevolent supernatural forces which will forever mark and irrevocably change him. Like Adam, eating the fruit from the tree of knowledge will only bring ruination. But, like Adam, the temptation is too great to resist.

Everybody loves a ghost story, which the play's international success certainly bears out. If you usually get your scare fixes at the movies, then you should take this play for a test drive. The Woman in Black is a heart-pumping, spine-tingling, hold-your-breath, jump-in-your-seat scarification at its theatrical best. I dare you to walk home in the dark by yourself afterwards.

Melbourne Stage online The Woman In Black   By Darryl Emmerson  Saturday 22 July 2006 

The Woman in Black, written by Stephen Mallatratt and first performed in 1987, has enjoyed amazing success from the beginning. It is now in its 19th London season, its 10th year at a theatre in Mexico, has been performed in 41 countries, and translated into 12 languages. All quite astonishing, because at first sight the piece, based on Susan Hill's novel, seems merely a clever-enough pastiche of Victorian and Edwardian melodrama and detective fiction. Very little is missing: the old family solicitor with a secret, an eager young lawyer sent to investigate the estate of a lonely and much-avoided widow, a gaunt Gothic mansion which looms out of swirling fogs and murky quicksand, a spectral figure which appears without warning and haunts the place, blood-curdling screams, doors which won't open, and when they do… Not forgetting chairs which rock when no one is sitting in them, quite a collection of grim, frightened servants and townsfolk, a sweetheart who waits for the young man to return… it's all there. At times a certain 'Ghost Train' element springs to mind.

If the source material, both novel and script, is so conventional, even stereotyped, this is to reckon without the piece's real, though stolid, virtues. Chief among these are its clear story line, the economy of the cast, the skill consequently demanded of its two actors, and, perhaps most important of all, the scope given to the designers.

John Waters and Brett Tucker are more than equal to the moderate demands of their roles, and their versatility of voice, movement and mood kick the whole thing along without fuss. Robin Herford's direction is clear and straightforward, and keeps the narrative very clear from go to whoa (the play is 105 minutes, performed without interval). The contributions by Michael Holt (design), Damien Cooper (lighting design) and Michael Waters (sound design) are, as earlier hinted, both crucial and impressive.

It's been a long time since, after a particularly agonising scream, someone gasped and said, "I'm going to have nightmares later on!" What with all the hype, thunderous music and coarse virtues of super-budget Hollywood fear-jerkers, it was nice to think the theatre could still scare us too. The audience liked the play, and The Woman in Black should enjoy as much success here as it has elsewhere.

The Program .com STAGE :: The Woman In Black By Stephen Davenport SA | 04.09.2006

Britain's spectacular spectre haunts Her Majesty's Theatre.

Adapted by Stephen Mallatratt from the novel by Susan Hill, The Woman in Black is a traditional, suspenseful, ghost story that will scare you witless.

Full of clever surprises, the story concerns Arthur Kipps, a young solicitor, who is sent to the mysterious Eel Marsh House to finalise the estate of the recently deceased, recluse, Alice Drablow. Strange visions, noises and the 'secret' of the wasted faced woman dressed in black, drive him out. Years later, in a desperate bid to exorcise the memories of the past, Kipps with the aid of an actor recounts his ghostly experiences and the curse of The Woman in Black.

With a minimal set, few props, clever lighting and sound effects the atmosphere of the drama is eerie. The Woman in Black's apparition, when she finally appears, plays on the imagination and is quite terrifying.

Watching two men telling a ghost story may sound dull but it certainly isn't. John Waters (Kipps) brilliantly depicts a desperate man with a dire sense of dread as he recounts his tale. Playing various roles including a lawyer, a cart-driver and an Inn keeper, Waters versatility is wonderful as he seamlessly moves from one character to another.

Brett Tucker, playing the actor and the younger Kipps, captures both characters' optimistic personalities perfectly.

Although it is difficult in live theatre to create a sense of fearful doom, both Tucker and Waters manage is masterfully. It helps that they are assisted by a creaking rocking chair, an invisible dog, a series of blood-curdling screams and of course the appearance of the ghost. But long before the malevolent spirit materialises the two actors have created a truly spine-tingling experience.

It is easy to see why this play has haunted London's West End for over 17 years. The chilling, thrilling Woman in Black remains with the audience long after the final curtain. Go see this remarkable play… if you dare!

Sydneystage.com  The Woman In Black   Written by Selma Nadarajah  Saturday, 01 July 2006

Having been running in the West End in London for the past nineteen years and having recently toured to Singapore and India, The Woman in Black has certainly captured a very large and universal audience. Haunted by Susan Hill's ghost story, playwright, Stephen Mallatratt, adapted the novel for the stage in 1987, cleverly economising the essence of the drama and playing up to the most accessible asset to any form of entertainment – the power of the human imagination.

Hill's novel which originally featured a multitude of characters and settings were to be executed on stage by two actors with minimal use of props and a very basic set. Furthermore, to encourage the audience to suspend their disbelief, the actors were to self-consciously acknowledge their performance in a play within a play. The result is two characters; Arthur Kipps and a young actor. Kipps (John Waters) is a troubled solicitor with a horror story to relate. He turns to a young actor (Brett Tucker) to assist him in his performance as a means to exorcise the demons that haunt him. This performance eventually becomes Kipps' ghost story. We then begin the dark journey to the Nine Lives Causeway where the eerie Eel Marsh House perches in the fog in total isolation. It is there where Kipps (now played by Brett Tucker) has been sent to settle the final paperwork of the deceased Alice Drablow, who lived and died alone. Kipps then begins to see sightings of a woman shrouded in black in the town and as he works late into the night in the creaky house. No one wants to offer any explanations until eventually, Kipps makes a shocking discovery.

The Woman in Black offers everything a good ghost story should – a chilling and mysterious setting, a skeptic, a secret, and a satisfying twist. Initially, the dramatic structure may seem like an odd decision for a stage adaptation of a ghost story. Surely, if the audience is to be terrified to their core, the narrative needs to be as immediate and as close to the surface as possible. In this case, the dramatic structure also made for comic potential as the young actor struggles to direct Kipps in his narration with his monotone voice and stiff posture. The jarring pace of stopping and starting as Kipps and the actor work through the scenes were unfortunately also exacerbated by a frustrating audience tendency to clap after every single scene. (For the record, it is generally customary to clap after an act at interval, or in the case of this play with no interval, it would have been far more appropriate to leave all clapping till the end of the play. A black-out at the end of a scene is NOT a cue to clap). Irritating audience habits aside, what Mallatratt was obviously intending as a dramatist, was to lead us into the heart of the narrative full knowing us all as skeptics. Like the young actor, the likelihood of us as a modern audience being scared while watching a play seemed like a preposterous notion, particularly in this day where horror films are churned out and consumed like breakfast cereal. Unlike the explicit gore and violence that we are accustomed to however, The Woman in Black offers something entirely different. It plays with our mind and senses while maximising on the power of the theatrical experience.

With a minimally dressed stage and only a few key props, audience imagination is crucial. Lighting and sound beautifully work together to carefully craft the menacing setting of Eel Marsh with a fog machine creating the bleak surrounding swamp land. Shadows projected on a large fabric backdrop play tricks on our eyes as we see moving figures, willowy trees and flickering silhouettes. In the darkness, we as an audience become as helpless as Kipps. Before you know it, you start to frantically dart your eyes around the stage in anticipation of another sighting of the woman in black!

It of course greatly helps that this production features two very fine actors. John Waters demonstrates wonderful versatility as he adopts the various different characters in the town and alternates them with remarkable energy and precision. Brett Tucker is equally commendable for his role as the young actor who at the start, is bursting with exuberance and who is later reduced to total vulnerability and fear as he plays the character of Kipps.

What is remarkable about The Woman in Black is its sheer simplicity. There is no intricate musical score with haunting melodies and chilling chords. The set while effective is by no means elaborate or detailed. Not to mention, the entire play is performed by only two actors. It is through this simplicity that the audience is forced to work harder, to create their own more detailed settings and imaginings and with this and the silence and darkness builds the burning intrigue of the terrifying drama about to unfold. Look out for the woman in black.

ABC Online by - Nigel Munro-Wallis

The Woman in Black. Talent: From the novel by Susan Hill.

Date of release: Until 20 August. Date of Review: Friday, 11 August  2006

Venue: Playhouse (QPAC)

This phenomenally successful thriller had a fairly low-key debut in December 1987 and has, much to it's producer's own surprise, turned out to be one of the great theatrical success stories of the last twenty years.

Mallatratt manages to tell a spine chilling story in such a way that, after lulling the audience into a false sense of security and comfort, the audience soon moves from laughter to uncomfortable silence and on through to sheer down and out terror as the story of hatred and revenge emerges against a background of lonely houses, mysterious deaths, fogs and, frankly, just about every other device you might expect in a good ghost story.

But don't be fooled. While this is a good old ghost story it is extremely well done and the suspense keeps building and building in such a way as you have never probably experienced it before. This play, make no mistake, is extremely stressful to watch – and very, very entertaining for theatre-goers who enjoy this type of entertainment. There is no blood, no visible violence, nothing. The terror is all firmly based upon suggestion and upon sound effects that mean, in short, your own mind does all the work and you scare yourself out of your wits.

John Water as Arthur Kipps and Brett Tucker as the actor both give excellent performances and as they switch from character to character they ably demonstrate their strength and versatility as actors. Michael Holt's minimalist and adaptable design does a great deal to support the overall feel and contributes a great deal to the success of the play, as does Damien Cooper's lighting design.

The Woman in Black is probably not a play for everyone, and certainly would scare small children out of their minds. But if you, like me, enjoy a good ghost story and bit of a spine chiller then this is certainly for you.

Go see it.

Perth Sunday Times Black Magic by Troy Lennon September 16, 2006 10:00pm

SPENDING 19 years in London¿s West End is an impressive run for any play. But Stephen Mallatratt¿s chilling The Woman In Black is not just any play.

Part ghost story, part thriller and part psychological drama, it has been bringing audiences to the edge of their seat and teasing screams out of them for nearly two decades, since it was adapted from a gothic novel by Susan Hill.

One of the two stars, John Waters, says it is hard to describe the work without giving away too much.

"It's the telling of a story by two men on basically a bare stage, with some props lying around that you might find in an empty theatre," he says. "They use these props, lighting effects and sound effects to act out a story. It is essentially a play within a play."

Waters plays Arthur Kipps, a 19th-century lawyer who has experienced an extremely traumatic event in his past. "It's horrifying, it has to do with the supernatural," Waters says. "He wants to purge himself of it. He's never spoken of it."

Brett Tucker plays the actor that Kipps hires to help him retell the events. Waters says: "Instead of teaching Kipps how to recite his long-winded tale, he suggests another way of doing it – that the two of us act it out."

The pair then begin to relate the story, the actor character playing Kipps as a young man and the real Kipps playing all other characters in the story.

"It is unashamedly designed to create suspense and to create moments for the audience where they really crap themselves," Waters jokes.

Tucker says he even found reading the script a scary experience. "I saw the show as well, thinking I would watch what they're doing and I still got scared. And I knew the script quite well by that stage," he says.

The fear is induced by suggestion rather than by effects, though Waters says there is a "rich soundscape" helping the illusion.

"It builds slowly and steadily to those moments. It is exactly the opposite to a Hollywood splatter film, it makes the audience use their imaginations a lot more," Tucker says.

Xpress Magazine.  The Woman In Black Speaks.  By SARAH THILLAGARATNAM

Posted on September 13, 2006 05:47 PM

London's infamous ghost story, The Woman In Black, comes to life in the stage adaptation starring John Waters and Brett Tucker. The season runs at Burswood Theatre from Tuesday, September 19, to Sunday, September 24. Bookings can be made at Ticketek on 1300 552 072.

The Woman In Black has been provoking big responses from audiences around the country, filling theatres with shrieks and screams. It's a rare occurrence for a chiller to be staged in the theatre, which is usually reserved for comedies and dramas. Even for veteran actor, John Waters, this was a first. For the actors and director, the challenge lied in successfully enacting a sense of eeriness on stage.

"When the scariness is in the psychological build up, you have to be clever as a director and writer and performer," Waters says. "Starting with a very well-constructed script, you have to build the blocks of suspense which is always starting slowly and leaving people hanging for a long, long time. It requires a lot of concentration to maintain the little levels of illusion that we do."

The Woman In Black is an old-fashioned ghost story set against the backdrop of Eel Marsh House in London, where its inhabitant, Alice Drablow has died. Junior solicitor Arthur Kipps is sent to the house to sort out her papers, and there, he is overcome with an overwhelming sense of unease. At Drablow's funeral, he glimpses a pale-faced young woman dressed in black, and later sees her again at the graveyard. No one seems to know who she is and why she's there, but eventually, the woman in black slowly reveals her identity to him.

Brett Tucker and John Waters make up the cast, with Tucker playing Arthur Kipps and Waters playing a range of characters. There is, however, another character that doesn't appear in the program.

"There's a third performer that we don't speak about," he says, mysteriously. "It's not to be spoken of because there are certain secret things that nobody wants to give away."

Because the set is minimal, the chilling effect is reliant on the actors and their storytelling ability. This was the challenge that attracted Waters to the play.

"It's that power because the onus is on you, the actor, to convey the atmosphere and everything. We have to set the setting, which is a marsh with the mists and seabirds calling, that kind of bleakness and a slightly austere beauty of a local windswept area.

"All of that's done with our language and the way we convey it to the audience because they can't see any of it and we have to paint a picture in their minds."

VillageVoice.com.au Sydney Weekly. Author: Josie Gagliano.  Fri 17 Nov, 2006

Cool Waters

He's the man with arguably one of the most recognised faces on screen and in theatre. His rugged good looks bestow him a charismatic presence, still as evident today as it is was when he landed on Australian shores from England in the late 1960s. John Waters is among the few elite Australian actors who have had on-going work in the fickle entertainment industry.

With a lead role in the first Australian production of The Woman In Black and a meaty role on the small screen in TV's All Saints, Waters says he is continually grateful for the work he's had, and with a career spanning over 30 years, he's witnessed some major changes in the entertainment industry.

"When I entered the television industry in the 1970s, Crawford Productions in Melbourne was producing four one-hour weekly series. On top of that, the ABC had their own programs. Now something's happened to the Australian TV industry. If the public want Australian TV programs so much, why aren't the channels providing them? I guess the answer is cost effectiveness. They're businesses, after all."

Clearly passionate about the state of affairs in Australian film and TV, Waters continues.

"I really lament the total emasculation of the ABC and I don't know why we can't devise something along the lines of the licence fees which keeps the BBC going as an independent organisation, so you don't have to rely on politicians who hate being criticised on funding the national broadcaster."

Waters is adamant about making a difference.

Born in London in 1948 to Scottish actor Russell Waters and his wife Barbara, Waters is one of five children and grew up in Teddington, Middlesex close to the Thames TV studios. This ensured a young John caught the acting bug early. Following parts in school plays and even a Disney film, Dr Syn, Waters lived his dream by singing and playing bass in a rock band The Riots, complete with de rigueur long hair.

Taking up a "ten pound" opportunity offered by the Australian Government, he sailed down under in 1968.

He landed the lead in Sydney's 1969 production of rock musical, Hair, followed by Judas in Godspell.

So versatile is Waters, he has played dress-ups with Jemima and Big Ted as a regular host of Play School for 10 years, and is well known for his roles on shows like The Man from Snowy River and the ABC series Fireflies. His latest role, on TV's All Saints, sees him relishing the chance to shine again.

"The ideal thing for me is to be able to alternate between runs of plays and working in film and television, and I'm lucky to be doing All Saints and The Woman in Black at the same time. Villains are great to play. There's a bit of that in my role as Mike in All Saints. He's right out there, he's very rock 'n' roll, and is arrogant. The character has given me a lease of life and vice versa."

Rock 'n' roll is something Waters is familiar with.

"I thought music was going to be my career, but that all changed when I was introduced to theatre. Being able to get back to doing the music thing every now and then has been a blessing because it's been another area in which I get to work. Rock 'n' roll music to me was storytelling, and it was about sex as well. For a young man, it was just great to be able to shout and scream and have every release you needed."

Which brings us to his role in The Woman in Black. Already successful on London's West End, Waters stars alongside Brett Tucker from McLeod's Daughters and is clearly relishing his return to stage.

"Here I am doing a play which I reckon is the most inventive piece of writing I've come across in a long time. It calls upon the actors to really relate to the audience and use their imaginations. I haven't come across something like this before."

After recent acclaim in 2004 with his role of John Lennon in Looking Through A Glass Onion, and the probable success of The Woman In Black, Waters is hardly resting on his laurels. Rather, the 57-year-old is enjoying the varied roles of actor, grandfather of two, father of two older children, father of three-and-a-half-year-old son Archie (with third wife Zoe), and a soon-to-be father of twins.

"It makes me feel rejuvenated. The image of a grandfather who is a retired pensioner and wearing a cardigan was never going to fit me anyway.

With future plans involving an exploration of his All Saints role, and a return to music, the stalwart is not considering retirement any time soon.

"I hope to be a sexy 87! Why stop?"