Pics, Articles & Reviews

(incl a Webmistress review).


Here's to your pure class, Ms Hughes October 10 2001  Reviewed by Bryce Hallett

California dreaming. Wendy Hughes and Mark Priestley in The Graduate.

THE GRADUATE  Theatre Royal,

Terry Johnson's stage adaptation of The Graduate is not unlike a high-fashion model. It's as smooth as silk, elegantly proportioned and calculated to charm.

It's not as brooding or as sexy as the landmark 1967 Mike Nichols film and puts greater emphasis on milking the comedy and accentuating the grotesque elder tribe. The ideas work well in the assured and arresting first half and the director effectively conveys the anxiety and risk as the anticipated seduction nears. The essential moodiness, however, is ultimately traded for fantasy and farce when the dreamer Benjamin's world begins to cave in.

The fashion analogy is apt when you consider that Johnson's version recently starred the leggy model Jerry Hall, her mere presence as the middle-aged Mrs Robinson ensuring full houses and sending the publicity machine into overdrive - a state of affairs set to occur here when Elle Macpherson appears in David Hare's The Blue Room next year.

The Graduate is among a spate of live shows first planted in the public's mind via the cinema, including Singin' in the Rain, The Producers, The Full Monty and One Flew Over the Cuckoo's Nest. But familiarity can be both a blessing and a curse, and it would take some doing for Johnson to match or better the film. He doesn't, but it's a valiant try.

Set in an affluent Californian milieu in 1964, Charles Webb's novel The Graduate and its satiric exploration of upper middle-class youth rejecting their parents' materialist values (while enjoying the trappings) was probably as ripe for the stage as it was the screen when Nichols's movie struck a chord with youth audiences and brought a silent and still Dustin Hoffman to notice opposite Anne Bancroft's tough boozer.

The story of the disenchanted, hardboiled Mrs Robinson (Wendy Hughes) seducing the somewhat dorky daydreamer Benjamin (Mark Priestley), who then falls for her attractive daughter Elaine (Brooke Satchwell), is not as daring as it once was but the production captures the flavour of uncertain times and the desire for change.

Stars ready to practise what they preach -- hey, hey, hey 

The Daily Telegraph, WED 10th OCT 2001.  By: ANGELA KAMPER 

It's OK to sleep with the wife of an older neighbour -- at least that's what the stars of tonight's premiere of The Graduate tell us.  Leading lady Wendy Hughes, who plays the seductive Mrs Robinson, and her young fling Benjamin (Mark Priestly) confessed they weren't opposed to dating considerably older or younger partners.  ``It's worked for me dozens of times,'' said Hughes, lying naked under satin sheets on the stage bed after a short rehearsal. ``It's a young man's fantasy,'' blurted Priestly.

The pair, speaking from their main prop on Sydney's Theatre Royal stage, resembled peace keepers Yoko Ono and John Lennon, but the topic was far from ``free love''.

After weeks of practice they agreed there was no need for pre-performance jitters despite the anticipated nude scenes. ``We don't even notice it,'' said Hughes, who is said to reveal all in the show. ``You just go ahead and do it.''

The Australian production, which is closely based on the 1967 US film starring Dustin Hoffmamn and Katherine Ross, revolves around a steamy affair between a young graduate and his married, middle-aged neighbour Mrs Robinson.

With a comic edge, the performance plays on American suburban life in the 1960s and brings out the frustration in an unhappily married woman and a curious young man.

The couple dodge their proud families to avoid revealing their controversial relationship.

Mr Robinson is played by well-known actor John Waters, former Neighbours star Brooke Satchwell plays Elaine, Mrs Robinson's daughter, and Mr and Mrs Braddock, Benjamin's parents, are played by television veteran Andrew McFarlane and Home and Away star Tracey Mann.

The show opens tonight at the Theatre Royal.

Sydney Confidential The Daily Telegraph. 

11th October 2001.  By: PETER HOLDER and JO CASAMENTO 

Graduate springs a surprise

OF course everyone was waiting for THAT scene. You know, the one where Mrs Robinson stands in the buff on stage in full view of the audience for 26 seconds.

Everything was going according to plan after veteran actor Wendy Hughes was viewed in all her glory in the opening scene.

But last night's first nighters at The Graduate at The Theatre Royal were shocked when her younger co-star Mark Priestley also emerged stark naked in the bedroom scene -- a world first for the stage production.

``I've seen it all before after working with him every day on Changi,'' said Matt Newton, whose girlfriend Brooke Satchwell also is in the cast.

There to see the quality production were Jeremy Sims, Jeanne Little, Deborah Hutton, Michael Caton and wife Helen, Abi Tucker and David Lawrence, Chloe Maxwell and Anthony Warlow.

Part sex comedy, part satire, The Graduate has been a huge hit in London's West End, where Kathleen Turner, Jerry Hall and Linda Gray all earned more media coverage than most plays warrant.

This production also has been directed by Terry Johnson, who adapted it for the stage in 1998 after producers John Reid and Sacha Brooks secured the rights from the Dustin Hoffman/Anne Bancroft film.

Given today's sexual freedoms and diversity of relationships, The Graduate may have lost its provocative edge, yet its picture of disintegrating families remains bold and strong, albeit as caricature. The play doesn't make a great feature of the film's Simon and Garfunkel score but it's there in parts to accompany deft scene changes and to help lay the bitter-sweet ground.

After interval, Benjamin's bid for independence and apparent true love in Berkeley reveals itself in his obsession for Elaine, a character more fully fleshed than in the film and giving Satchwell a chance to show her not inconsiderable charms. Her tender and combative scene with Priestley works well, then proceedings lurch mechanically from one confrontational scene to another. Comical high jinks, not moodiness or romance, are the order of the day. There is less a sense of Benjamin the saviour come to free Elaine from a similar fate to her hateful mother than of a goofy grad grappling for a cause.  When Benjamin interrupts Elaine's wedding to Carl, the action is tilted into farce - or is it fantasy? - and makes monsters of them all.

Rob Howell's imposing set of louvred panels takes its cue from the film, a neutral void resourcefully altered with minimal props, while Hugh Vanstone's lighting neatly colludes. The play begins in Benjamin's roomy bedroom and, with a few deft touches and a change of sheets, we travel to a range of places, including a hotel lobby, a scarlet-lit club and Mrs Robinson's artful lair.

Priestley is very good as the 20-going-on "you'll never be young again" anti-hero. He conveys an appropriate distracted air but, for my liking, plays a little too heavily on the nerd factor, a portrayal recalling movie matinee fumblers of old.

More Than One Reason To See The Graduate.  By Karina.  October 20th 2001.

I have only seen the movie version of The Graduate once and it was a long time ago, and I don't even recollect if I watched it all the way through.

So I wasn't sitting in the front row of the Theatre Royal for the plays Sydney season with any preconceived notions other than the fact that I was aware of the older woman seducing younger man scenario.

No I was sitting there on the front row, jetlagged and suffering missing luggage syndrome, to enjoy the opportunity of seeing some of my favourite Australian actors on stage.

Wendy Hughes is one of Australia's most beautiful, most enduring actors.  I have seen most of her movies and TV appearances and have always enjoyed her work.  This would be the first time I had seen her live on stage.

John Waters  well if you are looking at this website you already know how I feel about him.  Even a considerably small role in a play was enough for me to take an all night flight to the other side of the country to see him perform.

Andrew McFarlane, who didn't have a crush on him in the 80's  be it in The Sullivans or The Flying Doctors.  Dashing looks and a gentleman sense of style help too.  I had not yet had the chance to see him in a stage performance before.

Tracy Mann.  A quality Australian actor.  I have always enjoyed her work, especially in Cyclone Tracy and many guest roles on TV.  I had seen her live on stage in Perth in Dead Funny a couple of years ago and thought she was very capable with the live work.

Brooke Satchwell.  Curiosity more than anything.  Former Neighbours starlet, turned serious actor in a continuing role on Water Rats. 

Mark Priestley.  It's always fun to see someone's big debut performance.  In ten years time when they are signing $10mil deals in Hollywood, you can think to yourself "wow I saw him when he was young and fresh, look how far he has gone".  And that is what I think we will be saying about Mark as his performance was so very strong.

The early scenes show Andrew McFarlane as Mr Braddock to be an overzealous, nervous man constantly wanting to be seen to be doing the right thing, in particular he wanted to come across as the perfect father.  Tracy Mann as Mrs Braddock was the same as the twittering, nerve-racked mother.

John Waters as Mr Robinson, the old family friend, is brash, loud and overbearing.

And then we meet Wendy Hughes Mrs Robinson, already drunk and in a seductive mood.  She confronts a young, confused and upset Benjamin (Mark Priestley) in his bedroom and within minutes is standing in front of him in all her naked glory daring him to seduce her.  The look on Benjamin's face as Mr Robinson appears at his bedroom door, and a nude Mrs Robinson disappears into his bathroom, is simply priceless.

The remainder of the first half of the play is dominated by Benjamin and Mrs Robinson, as the set changes from Benjamin's bedroom to a hotel.  The long awaited seduction finally happens and the bedroom scenes are laugh out hilarious as Benjamin fumbles his way through the experience.

Wendy is magnificent, putting him down constantly, her dripping sarcasm and wickedness oozes off the stage.

The simulated sex and oral sex scenes left the audience crying with laughter, and I must say the view from the front row straight up under the sheets gave me a whole new insight into method acting.

Eventually we meet Elaine Robinson and watch as Benjamin falls in love with her and then her reaction as she finds out about the affair.  A gorgeous, realistic drunken scene with her mother follows as some home truths are recalled.  I think this scene is one that will remain etched in my mind.

As can be expected, Mr Robinson and the Braddocks find out about the affair.  Benjamin declares his love for Elaine only to find out she is planning to marry a college friend.

Benjamin interrupts Elaine's wedding, causing a complete ruckus and John Waters excels as the axe wielding, murderous, vengeful husband and father.  I believed he was angry  very much so !!!  I also believed that was a very real, and very heavy axe !!

Everyone is forced to confront their own feelings and actions before the plays conclusion.

I loved the simplistic sets.  The main three sided back drop being massive louvred doors.  These could spin or open into doorways and cupboards and then before you knew it they had changed from Benjamin's bedroom, to a hotel foyer, to the hotel bedroom, to the classically decorated 60's living room of the Robinsons, complete with staircases.  Eventually they became a room in Berkeley before being transformed into a church of magnificent proportions, some of which would have to be reconstructed each day after John's heavy handedness with the axe !!!!

Between scenes segments of Simon and Garfunkle's original soundtrack were used to set the mood.

I thoroughly enjoyed the entire show.  I recommend anyone who is a fan of any of the actors seeing it during its Sydney season.  As for me, I am thinking a trip to Melbourne for its opening night may be in order.

Sales fail Graduate  The Daily Telegraph  THU 15 NOV 2001

The Sydney production of The Graduate is to close -- probably by December 1. The closure is three weeks before the show was due to finish and the Melbourne and Brisbane seasons have been cancelled altogether because of poor attendance figures.

The show, starring Wendy Hughes, Brooke Satchwell, Mark Priestley, John Waters, Andrew McFarlane and Tracy Mann, has only been half-filling the Theatre Royal and the producers have decided that sales are not reaping enough of a profit.

Sydney Confidential  The Daily Telegraph THU 15 NOV 2001 By: PETER HOLDER and JO CASAMENTO 

Graduate fails to get pass mark in big test

THE Graduate has been such a runaway hit in London that the production is well into its fourth season.

So successful have Jerry Hall, Amanda Donohoe and Linda Grey been in the title role of Mrs Robinson that a Broadway production is about to start with Kathleen Turner (who debuted the play on the West End) and American Pie star Jason Biggs, who will be in Sydney next week, in the lead roles.

So it came as a shock to the cast and crew of The Graduate in Sydney when the news was broken to them on Tuesday that the curtain would come down for the final time as soon as December 1.

The closure is three weeks ahead of schedule, and the Melbourne and Brisbane seasons have been canned altogether.

Stars Wendy Hughes, Brooke Satchwell, Mark Priestley, John Waters, Andrew McFarlane and Tracy Mann were still recovering from the news yesterday.

Insiders said that while they knew they had only been playing to half-filled audiences at the 1000-seat capacity Theatre Royal since The Graduate premiered last month, they were still baffled with the news.

``It's terrible and very, very disappointing,'' a bewildered Tim McFarlane, managing director of The Really Useful Company, told Confidential yesterday. ``It's been heading that way for the past few weeks but the numbers that came out on Monday really were the last straw -- it's just very disappointing.''  McFarlane said the cast were ``naturally'' very disappointed but they were ``realists'' who knew that had been ``playing to very small houses.''

Poor audiences in Sydney coupled with slow ticket sales in Melbourne (box office for Brisbane had not opened as yet) forced the company to cancel the performances and cut their losses.

``I think there has been a loss in business confidence and retail sales everywhere right around the world since the World Trade Centre collapse and that has got to affect the the theatre industry,'' McFarlane said, searching for the answer. ``Add that to the significant effect of the Ansett collapse on tourism in Australia and it spells trouble.''

But it still doesn't explain why a play that continues to do so well in London, despite the effects of September 11, could perform so badly here.

One industry type said the problem lay with the casting.

``It wasn't cast right -- they needed a huge Hollywood star to put bums on seats and although Wendy is a great actress she doesn't have that `I want to see her in the buff factor' which someone like Elle Macpherson has,'' the insider told Confidential.

That theory will be tested when Elle strips on stage in The Blue Room in February.

Too few cheers for you, Mrs Robinson Sydney Mornng Herald 15/11/2001  By Nick Leys and Alexa Moses

After seducing cinephiles since 1968 and theatre audiences in London for the past 18 months, Mrs Robinson has failed to arouse the desired response among Sydney's theatre crowds.

When the cast of The Graduate came off stage on Tuesday night, they were told by producer Tim McFarlane that the Sydney run would end three weeks early, on December 1, and that plans for Melbourne and Brisbane seasons had been cancelled.

The reason - a lack of ticket sales. Producers blamed economic downturn and events overseas. Ticket prices ranged from $60 to $75.63.

"To have a play like this with that sort of track record, the reviews we have been getting and audience reactions - we are at a loss as to why things have turned out like they have," McFarlane said yesterday.

The Graduate premiered at the Theatre Royal on October 10. While McFarlane would not disclose just how bad ticket sales have been, he said the cast - including Wendy Hughes and John Waters - "have seen the declining numbers in the audience, so it may have been expected".

In a brief statement, Hughes said the situation was "very sad".

The producers and cast can take some comfort in the fact the play actually opened, unlike another '60s icon, Hair, which was canned in July before it opened.

Much of the attention The Graduate received focused on the overt sexuality of the character Mrs Robinson and Hughes' onstage nudity in the role.

It will be followed at the Theatre Royal by another overtly sexual production, The Blue Room, featuring model Elle Macpherson. Producer Tim Lawson said he was confident his production would fare better.

He believed the election and world events had a lot to do with The Graduate's problems. But "I don't think it is an indication of what the climate will be like next year", he said.

Post Graduate, prices and nostalgia may not be the same  

Sydney Morning Herald  16/11/2001 By Joyce Morgan

"I'm a little worried about my future." They were the prophetic words of The Graduate's randy young daydreamer, Benjamin Braddock, before he embarked on his affair with Mrs Robinson. But his words could well be echoing among commercial theatre producers in the wake of the early closure of the Sydney stage show.

For while the show has had overseas audiences hot under the collar, its reception here has been decidedly cool. The show that opened with much fanfare here last month will close three weeks early on December 1. And the plug has been pulled on next year's Melbourne and Brisbane seasons.

So what are the lessons of the failure of the show to fill houses here?

Nudity alone doesn't sell. Much of the show's pre-publicity centred on the fact that for a few nanoseconds Mrs Robinson, played by Wendy Hughes, was, shock, horror, nude. In a city where stage actors are regularly sans clothes - think Fireface, White Devil or Troilus and Cressida - such a prurient interest seems quaintly old-fashioned. Even opera divas get their kit off here - think Yvonne Kenny in Julius Caesar. Perhaps those with an abiding interest in the way of all flesh spent their money on Puppetry of the Penis. Yet that show sold largely on its curiosity value - how could two guys with only their three-piece suites for company possibly keep an audience entertained for an evening?

Nostalgia ain't what it used to be. The movie The Graduate rocketed Dustin Hoffman to fame in 1968. It was the biggest-grossing movie in a year that saw riots in Paris, Russian tanks in Prague and hippies in Haight Ashbury. The movie, which focused more on the youthful Benjamin than Mrs Robinson, was in keeping with the rebellious spirit of the time. And it was aided by Simon and Garfunkel's music. The duo might now be the staple of easy-listening music stations, but then they provided the backing track of an anti-war generation. Efforts to remount the '60s musical Hair earlier this year were even less successful, with the show canned before it opened.

Stars in their eyes. The stage play sold overseas on the strength of Kathleen Turner and Jerry Hall. Hall's second foray into acting might have been dubbed a triumph of hype over experience, but her name was enough to pull the punters. Wendy Hughes is a fine actress, yet hardly as familiar to local audiences, let alone tourists, as Turner or the ex-Mrs Jagger. The West End might have enough tourists to keep such a show afloat, but Sydney does not, even without the Ansett collapse and September 11 events. With The Blue Room, starring model Elle Macpherson, to open at the Theatre Royal, the pulling power of a star will again be tested.

Ticket prices. While audiences have been prepared to pay big bucks for flashy commercial musicals, and may do so again with the forthcoming Oliver! and The Witches of Eastwick, they may be more reluctant to do so for a straight play that lacks chandeliers, helicopters or an orchestra. With top ticket prices of $75.63 these are more than $20 higher than tickets for a Sydney Theatre Company production. Filling the large 1,000-seat Theatre Royal for 10 weeks is a big ask in a town where six-week runs in a smaller venues sector is more the norm in the subsidised sector.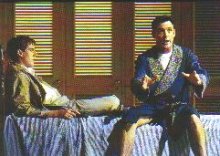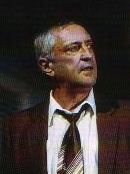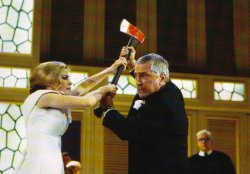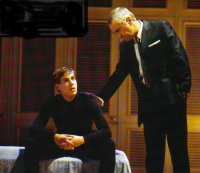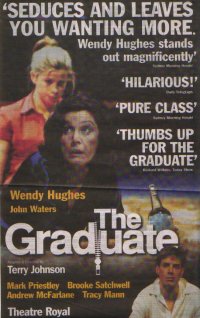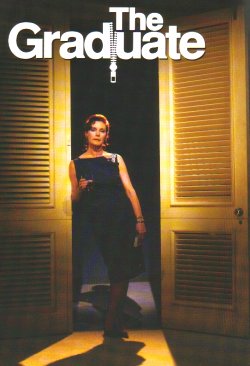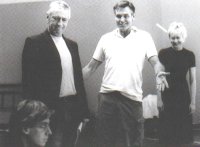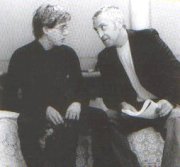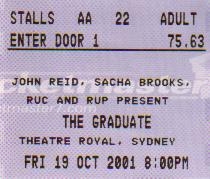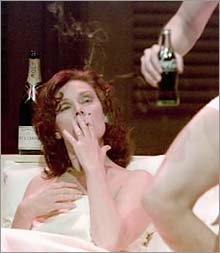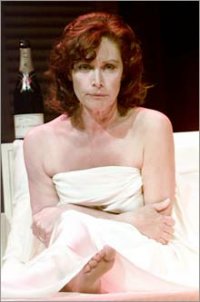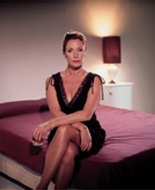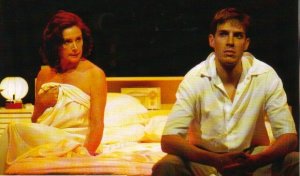 It is Hughes who stands out magnificently as the waspish temptress and seducer, a portrayal capturing the smouldering sexuality, the brittleness and the broken spirit of a creature trapped by comfort and an inability to break purposefully free. Her first encounter with the graduate is funny and coy, and soon turns spiteful and dark. There is nothing sensational or gratuitous in Hughes's 40-second nude scene and when Priestley's agitated rebel steals his first smoky kiss the audience erupts with laughter, as it does in the traditional comic set-up of two bodies cavorting under a sheet.

Andrew McFarlane and Tracy Mann do well as the straight-jacketed Braddocks but they, like John Waters's cuckolded Mr Robinson, are intentionally one-dimensional. That said, Waters draws out the character's stately authority without pushing too hard at the edges of caricature even when he's asked to make a hatchet job of it when the plot turns manic and crazed.

Johnson ties up the loose ends, removes the original cryptic ending and seeks a happy resolution in typical comedic style, the effect of which makes the tangle of morals and emotions far too slight while denying the audience the chance to speculate on the returned-to-innocence young couple's fate. This being fashion, in which the '60s and '70s are hip again, it is the production's striking looks, occasional wit and Hughes's ability to step it out in style which seduces and leaves you wanting more.